Harp and Crown Credit Union donate to Action Cancer
22 September 2023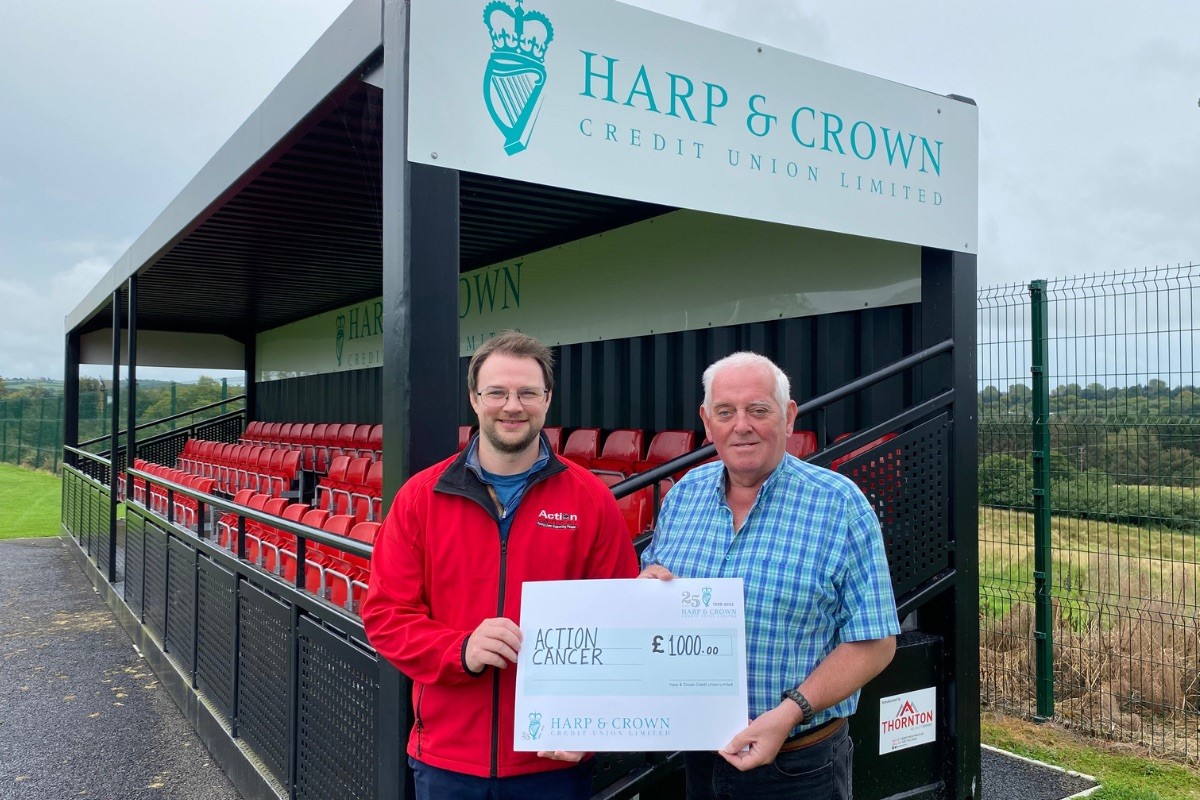 As the Harp and Crown Credit Union celebrates its 25th Anniversary year, we are delighted to announce our support of several local charities.
A donation of £1,000 is going to local charity Action Cancer who are also marking a big Anniversary, their 50th year in operation.
Action Cancer is Northern Ireland's leading local cancer charity and aims to help save lives and support people across NI.
Services provided by the charity include breast screening for women aged 40-49 and 70+, a skin cancer detection service, M.O.T health checks and a wide range of therapeutic services including counselling, as well as complementary therapy sessions. These services can be accessed from Action Cancer House in Belfast or from 13 regional locations and on board the Big Bus, the mobile cancer detection unit, which travels to over 200 locations each year.
All services are free to use, with costs covered by Action Cancer. For every £1 of income the charity raises, it spends 80p on its cancer prevention, detection and support services.
Each year 8,000 women are screened for breast cancer through the charity, 3,000 men and women attend skin cancer detection appointments and 1,500 are supported through support and therapeutic services – including children as young as five.
Fred Boyd, Harp and Crown Credit Union President said:
"We are humbled to be able to support such an important local charity which marks an incredible 50 years in operation, helping save many lives across Northern Ireland. We would encourage our members and their families to use the invaluable Action Cancer screening services available."
Mark Jones, Corporate Partnerships Executive said:
"We are delighted to receive a donation of £1,000 from the Harp and Crown Credit Union. This generous donation will go directly towards helping to save lives and support people affected by a cancer diagnosis in NI. Action Cancer needs to raise roughly £4 million every year to deliver our lifesaving and support services to people affected by cancer. The charity relies heavily on the good will of businesses and the general public across NI, so we are delighted that this donation will contribute towards this."
Action Cancer can be contacted via email at info@actioncancer.org or by calling 028 9080 3344. Text "DONATE" to 70111 to give £3. For more detail, please visit their website actioncancer.org.
Harp and Crown Credit Union has been providing safe, secure and flexible financial services to the wider Police family in Northern Ireland, since 1998.