Credit Union Vs Bank Latest Blog
13 October 2023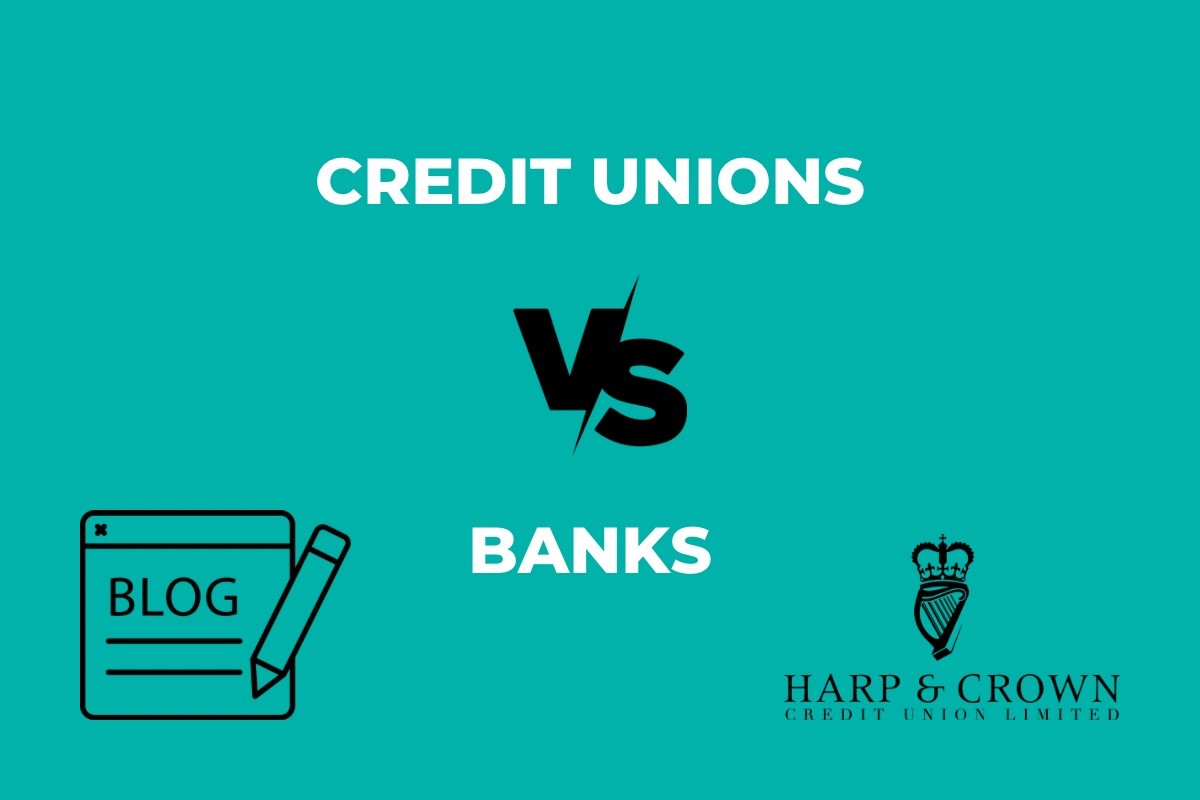 Credit Unions are VERY on topic at the moment with the departure of several major banks in Ireland, and credit unions coming to the fore in excellence.
It was recently reported by the Irish League of Credit Unions (ILCU), for the 9th consecutive year, credit unions have once again topped the league table for the best customer experience in Ireland according to the Customer Experience Insight (CXi) Report for 2023. Furthermore, Accountancy Ireland (August edition) reported "credit unions are now poised to provide a real alternative to traditional retail banks for the full range of financial services products."
Harp and Crown Credit Union pride themselves in first class customer service, providing members with the option to call in to their offices at Newforge, email, phone and/or utilise their online banking facility. According to the latest Harp and Crown survey 96% of members would recommend the credit union services to their family and work colleagues. This is a real testament to the strong team ethic at the Harp and Crown and a passion for delivering a quality service to the wider police family. There's a real sense of "community" which wouldn't be common with traditional banking.
There are MANY reasons to choose your credit union over a bank, whether that's to avail of lower interest, ethical loans, save into an instant access emergency fund or the desire to belong to a community of likeminded savers and borrowers.
We've highlighted 14 reasons to choose YOUR credit union.
COMMON BOND: Each credit union is governed by a Common Bond, that of the Harp and Crown is the wider "police family" in Northern Ireland. We've been providing our members with safe, secure, flexible finances since 1998.

"HUMAN WAY TO GET A LOAN". Every member gets a fair hearing and decisions are based on more than credit scores.

Loan interest rates are fair and they are capped by law (maximum of 12.68% APR). Transparency is key, there are no hidden charges. Same goes for interest rates advertised - what you see is what you get with our credit union loan rates. Unlike banks who may advertise a lower interest "headline" rate only for this to be much higher after a credit scored application.

Credit union loan rates remained the same whilst the increase in Bank of England rates saw an increase in loan and mortgage rates.

Credit Union loans can be subject to the level of savings a member has. Our loan products are based on 5 x your savings balance, except for our 3.9% Loyal Saver Loan (whereby 100% of the loan balance is "locked in" against your savings). Ts and Cs apply.

Loans can be repaid early with no settlement fees charged.

Interest (APR) is only charged on your reducing balance. Banks, however, tend to "front load" interest, with payments reflecting the original loan taken plus interest, throughout your payment term.

Many credit unions (including ourselves) offer members the option to call in to the office with their queries, whereas many banks have moved to online banking only.

Flexible repayments are available, with the option of restructuring should you no longer be able to afford.

INSTANT ACCESS to your savings (emergency pot) with no penalty.

YOUR SAVINGS & LOANS ARE PROTECTED: Unlike banks, credit unions such as the Harp and Crown provide free life cover for your loan, up to the age of 70 years old. In the event of your death, any outstanding loan balances may be cleared and YOUR BENEFICIARY/LOVED ONE will receive ALL your savings (and up to a maximum £5,000 on top of your savings). We have simplified this process as far as humanly possible to minimise the burden on your loved one.

ETHICAL BORROWING - credit unions are not for profit and are owned by their members. We will never knowingly lend to a member if we believe they are not managing their finances or can't afford it.

NOT FOR PROFIT: Members investing in their credit union benefit ALL members such as community initiatives which benefit the wider police family; and lower interest loans to help families through education, making first home purchases, cost of living expenses and more.

ANNUAL DIVIDEND and LOAN INTEREST REBATE - not every credit union is able to deliver on an annual dividend. Harp and Crown Credit Union is proud to confirm we consistently deliver and give back to our members annually. In 2022-2023 (financial year Oct-Sept) we were beating the banks paying out 100 times more than the interest rate at that time. When the bank interest rates start to fall we will still be here offering you a competitive dividend and lower loan interest rates.
We are here to help YOU with your financial needs. Choose YOUR credit union today!
Email creditunion@harpandcrown.co.uk or phone 028 9068 5198 between 9am - 5pm Monday to Friday.
"Save regularly and borrow only what you need."
The Harp and Crown Credit Union provides safe, secure, flexible finances for the wider police family in Northern Ireland.